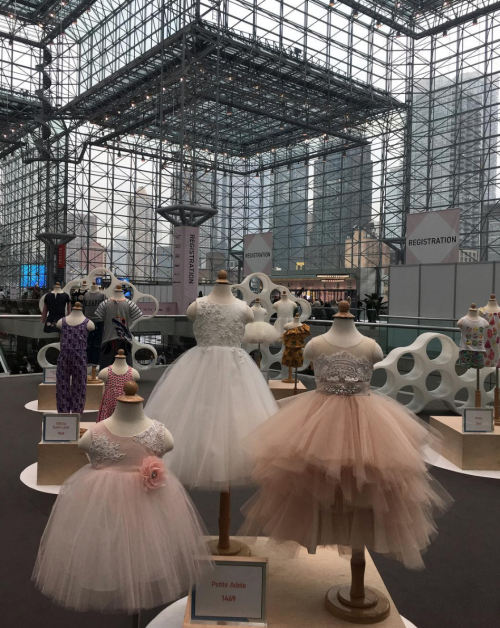 As we enter the first trade shows of 2018, it's a good time to look over your show strategy, whether you are exhibiting at ENK Children's Club (January 7-9) or another upcoming show. We routinely attend trade shows and can give a few pointers on what works and what doesn't- here are our tips:
1. Your booth's aesthetic. While you can spend a small fortune on your booth display, often it's the smaller, more personal and clever touches that make more of an impact. String lights, marquee signs announcing your show specials, and felt letter boards are fun accents. One strong image on a poster board may be more impactful while buyers are walking by rather than several tiny images that are hard to see from the aisles. Make sure you have adequate lighting (often you pay extra for additional lighting) and request your booth's general location when negotiating, if possible.
2. Your booth's layout. Is there an easy way for buyers to enter your booth and inspect your collection? Or do they awkwardly have to dodge a mannequin and squeeze past desk & chairs to make it through? Make it easy to enter your booth.
3. Be prepared with materials. It may seem obvious, but make sure to bring enough line sheets, lookbooks, business cards, and other marketing materials to offer buyers. If they are pressed for time, they may want to take home the lookbook and place their order at a future date. Also know your wholesale and suggested retail prices.
4. Keep it positive & productive. While it may be tempting to complain to your booth neighbor about the lack of buyers or sit in your booth stewing, it's not a good look and won't compel any buyers to stop by. Keep it professional and be proactive.
If it's a slow time at the show, use it as an opportunity to do a Facebook Live sharing a sneak peek of your upcoming season. Take photos for future content when the collection launches, or to include in follow-up emails with potential buyers showcasing pieces they liked.
5. Be social. Speaking of social media, utilize the trade show hashtags (often posted on their signage and Instagram accounts) to attract attention. We have met a few buyers by simply using the show's hashtags and posting images of new brand offerings or show exclusives. Be sure to use the trade show's location in case people are searching through venue images and include your Booth # in all posts.
6. Takeaway Items. Branded tote bags, candies, lip balm, pens, water…All of these are popular at shows and help people remember your name beyond the show.
7. Follow Up, But Don't Be Annoying. After the show, make sure you follow up with all leads- if someone has requested you send them a digital lookbook (even if they already have the paper one), send it with a brief summary of your offerings and more information on any pieces they were eyeing.
While it's important to stay on their radar, do not annoy buyers with constant emails- stick to brief, friendly communication (perhaps each new season) sharing new developments that may interest them. Focus on building an ongoing relationship rather than a transaction.
We hope these tips are helpful, as always please feel free to email adrienne@magnoliapr.com for more information on our services for growing children's fashion & lifestyle brands. Happy 2018!