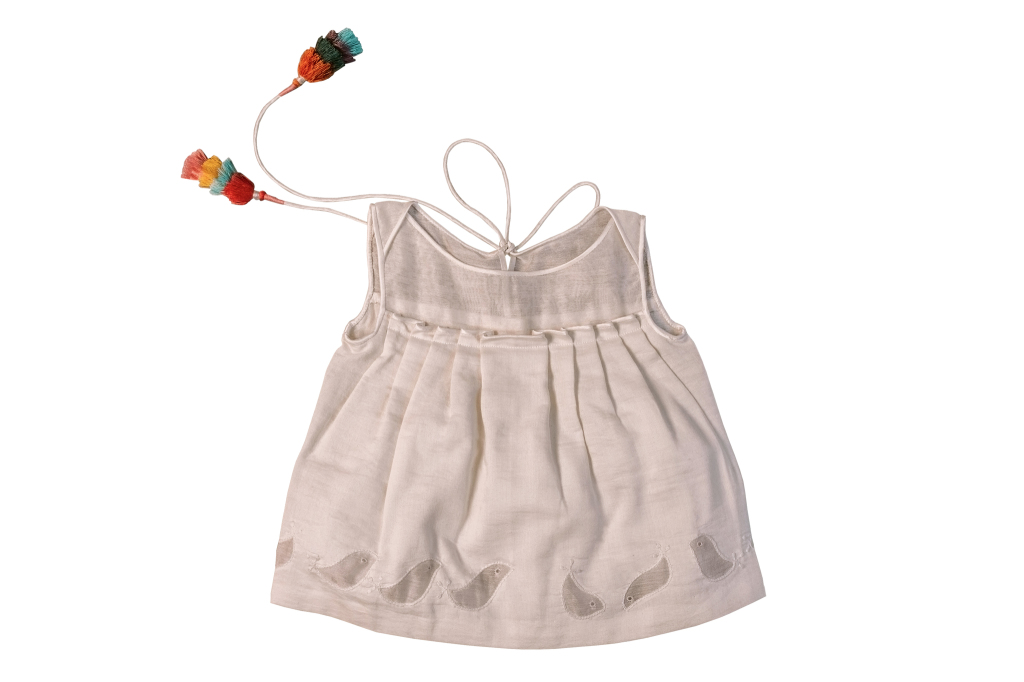 Using handwoven, heirloom-quality fabrics and ethically handcrafting their infantwear collection in India by local artisans, Qatrah stands out in a sea of disposable fashion. Designed in New York City by veteran women's fashion designer Charu Wadhwa, Qatrah focuses on freedom of movement for babies with airy silhouettes reflecting Charu's Indian heritage. Rompers, harem pants, low-slung trousers, and cotton-silk blankets (perfect for baby's first trip home from the hospital) round out the breezy collection for 0 to 2 year-olds, available at www.qatrah.net.
Qatrah's newest collection, Little White Bird, reflects the freedom of wearing flowy, away-from-the-body silhouettes and uses the symbolism of the bird as their central motif. Charu aims to revive the traditional Indian crafts of Daraj (reverse applique) and Chikankari (white on white embroidery) with her distinctive, intricate embroidered designs featuring subtle bird details and playful, colorful tassel accents.
Each Qatrah piece is created using slow fashion methods with a keen focus on social responsibility and designs that endure and can be passed down for generations.
"I think slow fashion lies in the essence of the textile process of Qatrah, where materials pass through the hands of one craftsperson to the other," said Charu, a NYC mother of one young daughter, Aria. "Qatrah is an effort to eschew factory and sweatshop culture in favor of equal pay and better working conditions for our artisans to create beautifully made pieces that can be worn, treasured and handed down from one child to the next."
Charu's extensive background in high-end women's fashion sets her apart from other micro-fashion designers. Educated at NIFT in New Delhi and FIT in NYC, Charu has over a decade of experience working for the most esteemed design houses, including Ralph Lauren and Calvin Klein. From Nicole Kidman at the 2013 Cannes Film Festival, Naomi Watts at the 2014 Oscars, to Katie Holmes at the Met Gala, Charu has been instrumental in many memorable red carpet fashion moments.
As she sets her sights on influencing slow fashion for the pint-sized set, Indian-born and raised Charu hopes to share the rich cultural heritage and craftsmanship of her home country combined with luxurious fabrics and child-friendly designs. To learn more, please visit www.qatrah.net.