We are commonly asked about public relations (PR) and wanted to write an informative, honest blog answering the most frequently asked questions. Feel free to contact us if you have additional questions or would like to learn more about our services!
What exactly do you do, what is PR? 
The official industry definition of PR is "Public relations is a strategic communication process that builds mutually beneficial relationships between organizations and their publics." For Magnolia PR, we work with brands to communicate their offerings to targeted media and consumers, which can include outreaching to print magazines, trade publications, digital publications, blogs, television, celebrities, and influencers on behalf of our clients. Our goal is to connect our clients with their desired media & target market with tangible outcomes (i.e. press), elevating their brand presence & perceived value in general.
I'm a new brand just starting out with a small budget, do I still need PR? 
In short, yes. If you want to launch and grow your brand the correct way, investing in PR early on is key to introducing your brand to the media when it is fresh & new, thus newsworthy. We understand small business needs and constraints (we started as one in 2006 ourselves!) and work to meet the needs of brands at all levels and budgets.
Often, we can advise you on where to invest your funds and thus save you from making common mistakes (like exhausting all of your budget on an expensive trade show when you first launch and no one knows who you are…we hear this way too often!). You can start small with PR and expand services as your business grows.
My brand has been around for awhile, but it needs some press and a brand refresh. Can you help?
Yes! We work with established brands as well, as long as there are fresh PR angles we can work with (i.e. trend stories, new brand developments, etc.) we can help. Having a set of fresh eyes on your brand is always beneficial.
I want to get my product to celebrities. How do you do that?
We work with our trusted industry contacts, ranging from publicists, costumers, stylists, and other gatekeepers to gift our clients' products to celebrities who match their style/aesthetic. Rather than gifting blindly, we ensure items are given directly to the source and provide them with their preferred items. Often we will gift celebrities who wear (and love) items for editorial shoots so they will hopefully be photographed at a later date wearing the brand as well.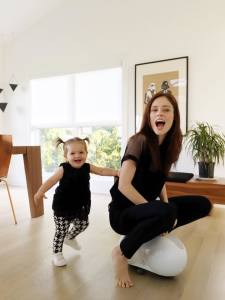 Coco Rocha's daughter Ioni wearing client's shirt from our celebrity gifting 
What do I need to be ready to start PR? 
We recommend having high resolution product & lifestyle images of your brand, line sheets, lookbooks, and other "about us" materials (can be rough copy, we will finesse and write all PR copy!) for us to hit the ground running. If you aren't quite sure who to contact about product photography (i.e. images that can be readily placed in a magazine spread), lookbooks, etc., we are happy to refer companies we trust and have worked with, as well as offer "pre-PR" consulting prior to your brand's launch.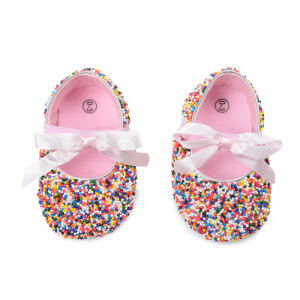 Product photography example
So when should I start PR?
We recommend starting when you have the materials/information outlined above ready, keeping in mind the editorial calendars and lead times of publications. If you are launching a Spring/Summer 2018 collection, now (October/November) is the time to start for print magazines with a 3-6 month lead time. Digital publications have a shorter lead time, for example we are currently receiving holiday gift guide requests for online outlets.
I'm thinking of exhibiting at ____ trade show. What do you think?
We can give our unbiased thoughts on the particular trade shows we personally attend each season and which ones may fit your niche based on the retailers you hope to reach. Often, trade shows are a large investment and should be well-researched prior to committing- if you can, walk the show as a guest/potential exhibitor and see what the foot traffic is like and if the exhibitor brands/price points align with yours. Occasionally our clients split booths if they have complimentary products or exhibit under the umbrella of their sales showroom.
I don't live in the U.S., can I still work with you?
Of course! We have had clients across the globe, including Europe, Australia, Dubai, South America, and across the U.S. We are based in Los Angeles and New York City, but work with international media as well as national and regional.
Do you work with influencers?
We do! Check out our social media channels for examples of our recent collaborations. If this is part of your PR strategy, we can help with influencer outreach as well. We most commonly do in-kind collaborations where we give influencers free product in exchange for posting, but more formal (and paid) agreements can also be made depending on the needs/requirements of the client.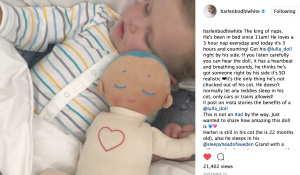 I need help with other services, like retail pricing, wholesale, getting into a sales showroom, etc. Can you assist with this? 
Yes- we have trusted colleagues who specialize in these sectors and we're happy to give our clients referrals.
Can you guarantee we get press? 
Unfortunately there is no guarantee in PR. Press/editorial is earned media that can't be purchased, advertising is paid. While we make every effort to provide deliverables & secure press for our clients, we can't guarantee coverage- editors have the final say on what runs in publications.
Can we pay you only if you get us press?
No. Paying "per placement" is considered unethical in the PR industry and disrespectful to our time, relationships, and expertise.
So how do you work with clients? Is it a one-time project thing or ongoing?
We typically work with clients on an ongoing basis, the most popular being a 6 month PR package (with the option to renew). We also do shorter term PR projects on a case by case basis if they make sense for the brand. We highly encourage long-term relationships with our clients to properly grow their brand and sustain momentum. Our most successful clients have been with us for multiple years!
We had a bad experience with another PR agency. What makes yours different?
We work to provide quality, integrity-focused service and communicate clear expectations with our clients. As a boutique agency dedicated to personalized service, we typically only work with 5-7 carefully chosen brands in the baby/kids/tween & teen fashion & lifestyle categories at a time. We have successfully been in business since 2006 (over a decade!) and are happy to provide client references and case studies.
To find the right PR agency for you, always do your homework- Google their name, look at their social media and LinkedIn testimonials, ask for case studies, references, and who your point person will be if you work with them.
What do you charge?
Contact us for specific pricing, which varies based on the scope of work. We view PR as an investment and not an "expense" and will happily send you case studies of our tangible PR results for clients.
Hopefully we have answered a few of your questions! To learn more, please email adrienne@magnoliapr.com. Thank you!