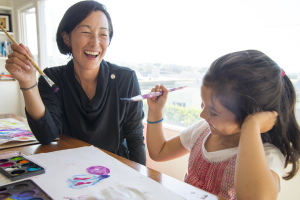 From feeding to bath time, raising children is often hectic and messy. Many new moms struggle with how to keep their clothing fresh and clean (and free of frumpiness) without constant clothing changes as they navigate their busy days. Tolutina's innovative Bombshell is a modern take on the '70s house dress with a twist- it's a stylish layering piece designed with deep pockets, easy snaps, and a belt to easily wear over everyday clothing, whether you're in yoga pants or business attire.

Moms no longer have to worry about sticky fingers or spit-up stains- the Bombshell protects clothing while also being hip enough to wear in public. The sleek style resembles a wrap tunic with the added benefit of extra deep pockets for phones, keys, and other essentials; convenient snaps to quickly accommodate nursing babies; each Bombshell can be tied to flatter every mom's unique body. Embarrassing your child at school pick-up time will be a distant memory!
Each Bombshell is consciously made in Los Angeles of soft hemp and organic cotton with a touch of spandex for stretch and versatility. Bombshells are available in sizes XS to XL in shades Everglade (teal), Charcoal, and Black, retailing for $129 at tolutina.com.
In the 1980s, young mother Bobbie Celeste created a simple "mom smock" mock-up in an effort to solve the problem of protecting her work clothes while still being a hands-on mom. Fast forward to 2016, and her two daughters Christiana and Liz, now moms themselves, decided to revive and modernize the concept with Tolutina's Bombshell.
The name Tolutina, a loose translation from Fijian meaning three mothers, was chosen as co-founder Bobbie and her husband Ted were Peace Corps volunteers in Fiji in the 70s, teaching young children English. Fiji holds a special place in their hearts, and the whole family has visited the tiny island for inspiration.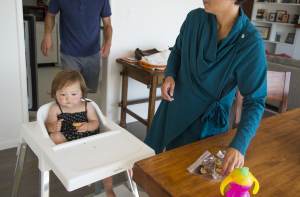 Tolutina's Bombshell, the perfect go-to gift for new moms, is available to purchase at www.tolutina.com. Tolutina launched their Kickstarter campaign this May 2 to secure funding for additional production.